---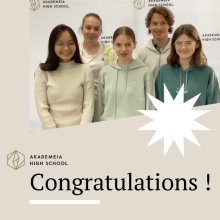 June 14th 2023
Here goes another round of Student Stars celebration!

Our brilliant 5th Form students have once again made us burst with pride! In the recently concluded 2023 British Biology Challenge, a competition designed for younger learners, six of our students have achieved remarkable medals.

Let's give a huge round of applause to Olga for securing the prestigious Gold Medal! Joining a mere 5% out of over 43,500 participants from 621 schools, Olga's achievement shines brightly!

But wait, that's not all! We also have two exceptional individuals who have been awarded Silver Medals. Congratulations to Julek (not featured on the photo) and Anh Cac! Your dedication and hard work have truly paid off!

Let's also recognize the remarkable talent and effort put forth by three of our students who have received Bronze Medals. Congratulations to Leopold, Kaja, and Matylda for their well-deserved achievements!

The British Biology Challenge is a rigorous competition that covers both Year 9 and iGCSE curricula, along with significant extracurricular components. Our students have not only demonstrated their knowledge and skills but also showcased their genuine passion for biology!

Congratulations once again to all our amazing medal recipients! Your accomplishments are a testament to your hard work, determination, and love for the subject. We are incredibly proud of each and every one of you!
---
---
You may also be interested in...