---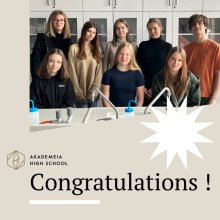 April 24th 2023
We're beaming with pride and joy!

The entire Akademeia community would like to express our immense admiration for our brilliant students who participated in the prestigious UK Chemistry Olympiad. 13 dedicated students took part, displaying tremendous effort and preparation for this challenging competition.
Results:

Juliusz – Gold
Ada, Aleksandra, Antonina, Julia – Silver
Laura, Piotr, Victoria – Bronze
This year's Olympiad saw nearly 12,000 participants from numerous schools across the UK and abroad. The questions ventured into the realms of undergraduate chemistry, exceeding the standard curriculum and the results are truly showcasing the talent and versatile skills of our students.

Special recognition to Juliusz for achieving a result within the top 1% of all participants! And let's not forget Laura, who secured a bronze despite being only in Y11, and Ada, whose Silver in Y12 is truly impressive considering the Olympiad is aimed at Y13 students.
We couldn't be prouder of our students' achievements! Keep shining, everyone!
---
---
You may also be interested in...